Description
Features:
- °F/°C switchable 
- 4s super fast response time 
- Large LCD display 
- Measurement range:-50~300℃(-58~572℉)
- Measurement accuracy:±1°C at -20~200°C and ±2°C at the other range 
- Display resolution: 0.1°C
- Instant Read
- Hold temperature function
- 10-minute auto-off
- Food-safe ABS plastic case and stainless probe
- CE & ROHS Certificated
- Powered by one AAA battery(NOT included)

Specification:
- Open the probe to turn unit on. The LCD screen will turn on, display all options, and display the current probe temperature. To turn off, press the "ON/OFF" button or close the probe fully until you hear it click shut.
- A probe is set to read temperatures in Celsius. To switch to Fahrenheit, press the "°F/°C" button.
- To test temperature, insert the probe into the thickest part of the food. DO NOT LEAVE THERMOMETER IN 
- Data-hold. Before withdrawing from food, press HOLD button. This will "hold" the temperature reading until pressed again.
- The current internal temperature of food shows on the LCD screen.
- Press the "ON/OFF" key once to turn unit off. Otherwise unit will automatically turn off after 10 minutes .if no other button is pushed. When the probe is open, but the unit automatically turns off. 
- You just need to press the "ON/OFF" key once to turn the unit on again
 
                                               Barbecue Temperature Reference: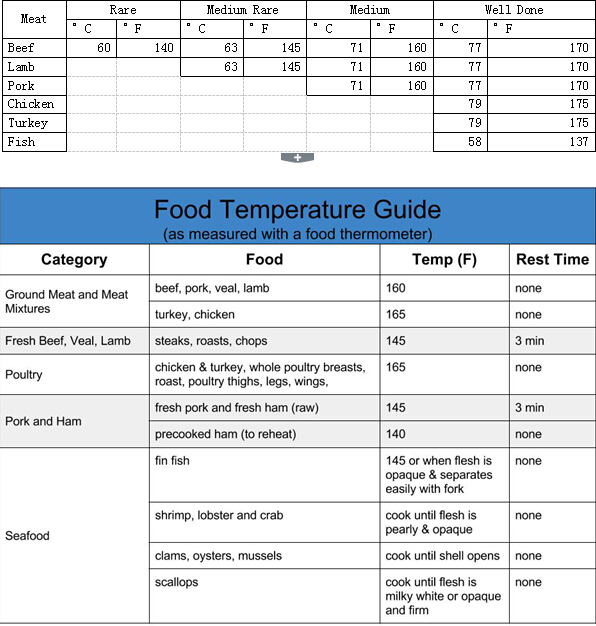 NOTE:
DO NOT leave the thermometer in the oven while cooking! 
DO NOT touch hot probe with bare hands.
Wash the metal probe in soapy water. Clean thermometer by hand. Do not immerse it in water.
Sterilize metal probe by inserting into boiling water for several minutes.

Package Include:
1 x Barbecue Meat Thermometer